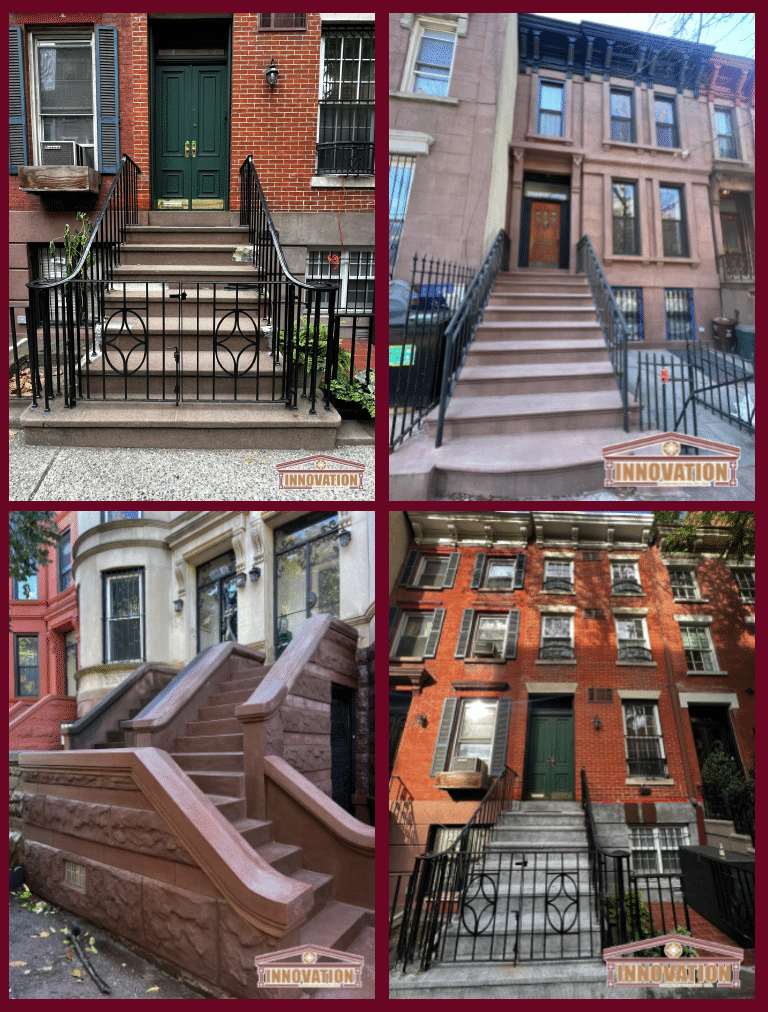 ABOUT US
We are one of the leading brownstone restoration specialists in New York City.
Innovation Construction NY Inc. is a family owned business that takes pride in the reputation we have built through quality and reliable services. Our company, located in Brooklyn, New York was established in 1995, from a simple concave office, Innovation has now grown into multiple braches and locations. We have gained recognition in the Brooklyn arena in the following locations: Park Slope, Carroll Gardens, Boerum Hill, Cobble Hill, Windsor Terrace, Fort Greene, and Downtown Brooklyn.
New York City
Landmark Preservation Contractor
We designed to help the owners of rowhouses in New York City's historic districts preserve and maintain their remarkable homes and work successfully with the Landmarks Preservation Commission when exterior alterations are needed. We have been following the guide and working for over a decade with the commission. We believe our clients should know all the ins and outs of the work they are doing to get the best quality work done.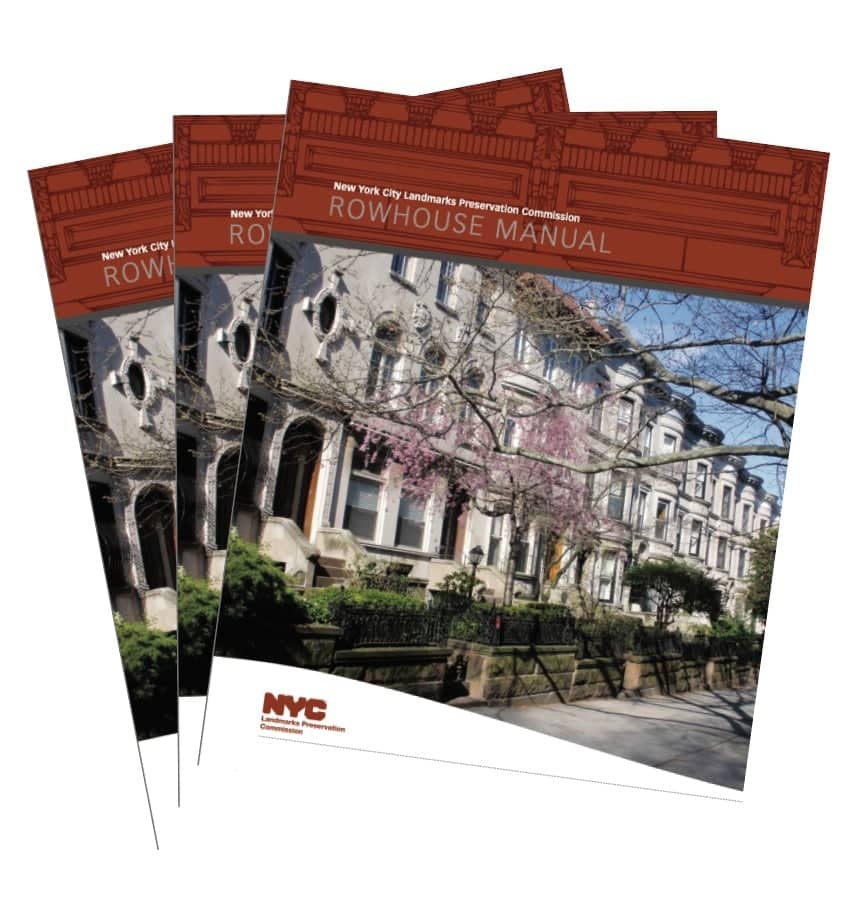 LET US PREPARE A FREE ESTIMATE FOR YOUR NEXT PROJECT
Our Team is very Experienced and with our Extensive Portfolio you can be assured of quality work.
Service
Innovation Construction NY Inc. is specialized in restoring historical brownstones, we restore the glory and beauty in both ways. All types of Landmarks Preservation building Repair/Restoration.
BROWNSTONE RESTORATION
Brownstone restoration is the process of restoring a brownstone structure to its original state or a better one while maintaining its distinctive architectural elements. The mortar joints between the brownstone blocks must be cleaned, repaired as necessary, and repointed. It seeks to lengthen the building's lifespan and restore its aesthetic value.
STUCCO
Building stucco is a decorative coating used on walls and ceilings. It is put in several layers over a wire or mesh base and is composed of cement, sand, water, and other ingredients. To create a range of styles, from smooth and elegant to rough and rustic, stucco can be colored and texture-modified. It is appropriate for use in both interior and exterior applications due to its strength and resistance to weather.
CONCRETE & MASONRY
Concrete and masonry are building materials that are used to produce strong, long-lasting constructions including buildings, walls, and paving. Concrete is a composite material comprised of cement, water, and aggregates, whereas masonry describes construction using elements like brick, stone, and concrete blocks.
ROOFING
The process of creating or repairing a building or structure's roof is known as roofing. To establish a waterproof barrier over the top of the building, various materials such shingles, tiles, metal panels, or membranes must be installed. The goal of the roof is to shield the interior of the structure from weather hazards like snow, wind, and rain. A roof's lifetime and efficiency depend on proper installation and upkeep.
WATERPROOFING
Making a surface or building resistant to water, preventing it from penetrating and causing damage, is the process of waterproofing. Typically, coatings, sealants, membranes, and drainage systems are used along with other materials and methods to achieve this. It is frequently utilized in damp environments including balconies, roofs, and basements.
CEMENT WORK
Using cement, a binder material made of calcium, silicon, aluminum, and iron, to create surfaces and structures is known as cement work. Concrete, which may be poured, molded, or moulded into a variety of forms and sizes, is made by combining cement, water, and aggregates like sand, gravel, or crushed stone. With cement, you can build walls, foundations, roadways, sidewalks, and other constructions.
EXTRA SERVICES
Innovation Construction NY Inc. is specialized in restoring historical brownstones, we restore the glory and beauty in both ways. All types of Landmarks Preservation building Repair/Restoration.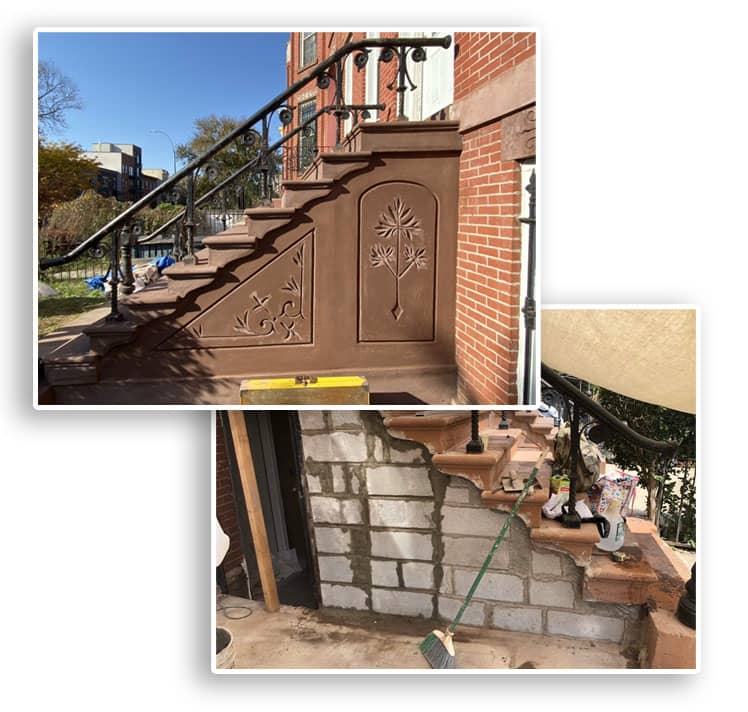 Innovation Construction is one of the leading brownstone contractors in the New York City Region.
Our Process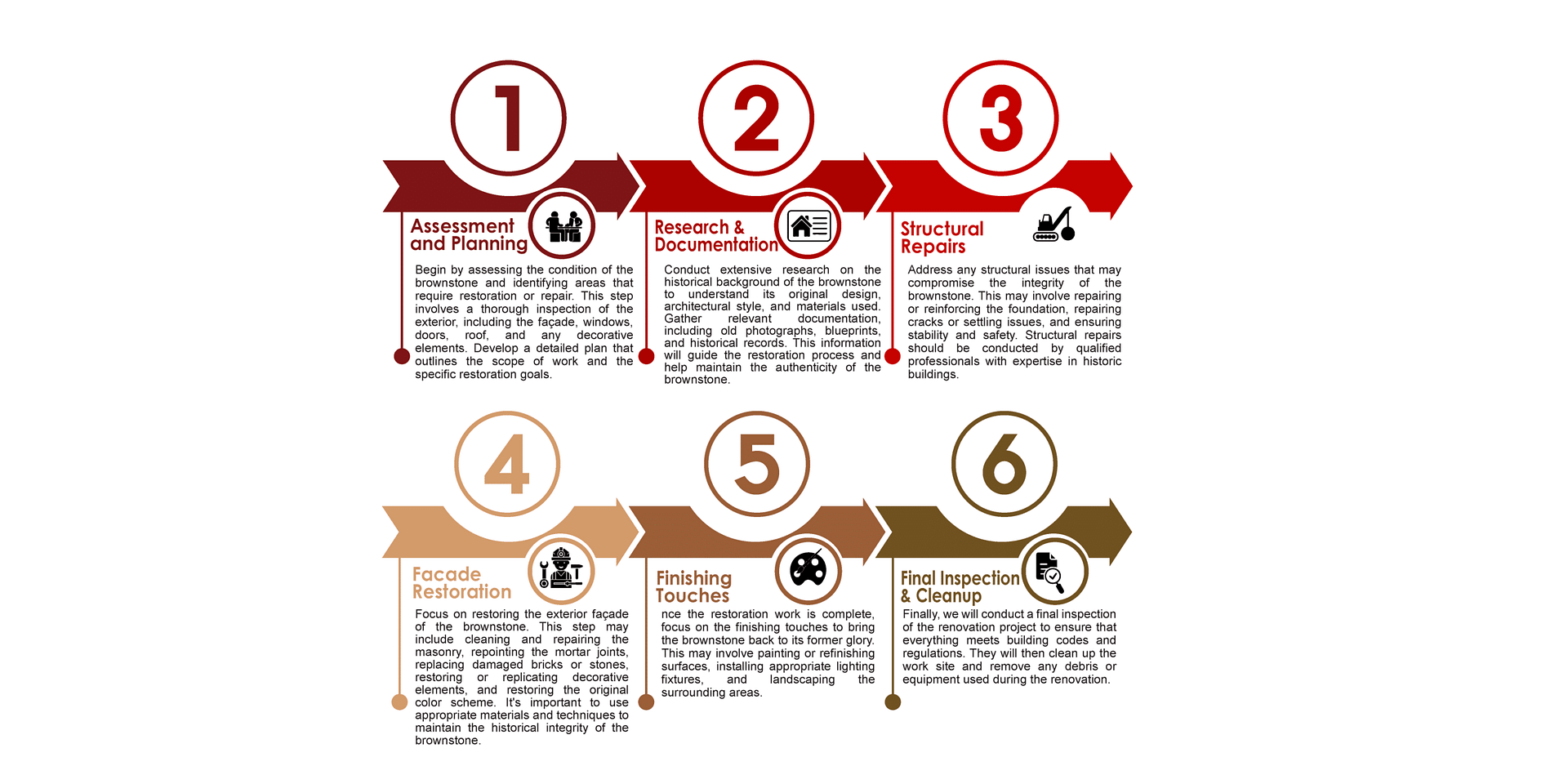 TESTIMONIALS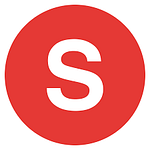 Innovation restored my facade and stoop, their work is amazing, they work with your budget and time. I highly recommend this co who needs professional work done
Shilla M
Review from Google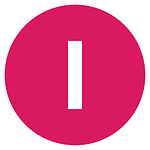 Innovation redid our stoop, excellent work on time and budget, their expertise on stoop and facade work.
Imrul Hassan
Review from Google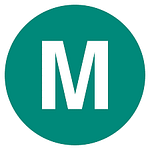 Very professional company. I've used them to renovate my one family home gut renovation. Also some masonry work front and back. Work is great. Definitely would recommend.
MD Noman
Review from Google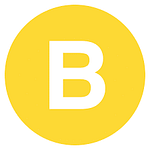 Innovation Construction NY Inc crew really know their stuff and take great pride in their work. The crew did a great job on our brownstone stoop restoration. Would hire them to do the entire facade if I could afford it. Highly recommended.
Boniface Mwangi
Review from Google
They do good work and are responsive. If you use them, be sure that you'll have a great experience. In my specific instance, they helped out with repairing brownstone steps and facade. The work turned out great with these guys. Some companies I contacted wouldn't touch the work based on the material I wanted to use (special brownstone-like compound as opposed to concrete). Innovation Construction NY Inc jumped in and got it right.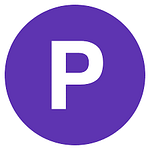 Innovation Construction NY did a great job on the masonry work of my home. They redid the garage, retaining walls, and brick work. Absolute amazing job have been completed. quality and craftsmanship i give them a 10out of 10 rating or A+++. Highly recommend Innovation Construction NY
Peter K
Review from Google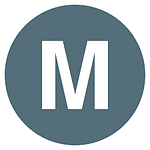 Innovation redid my complete 3 story brownstone facade and stoop restoration in park-slope brooklyn. their details to the restoration of the brownstone is top notch, and they had well experienced masons on site all the time. their attitude and professionalism kept me and my family rest assured until completion. The final outcome really looks great.
Mohseen Lala
Review from Google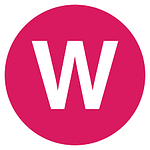 Thank you the owner , our floors are beautiful!! He was the main one here and he is very polite and professional.. I will recommend your company to everyone.. Thank you, to all.
Wyatt Lindsey
Review from Google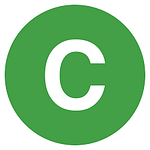 We just bought a 1910 barrel brownstone. Our facade and stoop needed lot of work, from top of cornice to the base of the facade all restored to original. Ekram and his team is great to work With, they arrive on time every day to work, communication had been very good , attitude and professional throughout the job to completion . 10/10 percent thumbs up to them.
Craig Reynolds
Review from Google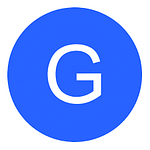 Ekram and his team did a beautiful job on our brownstone façade. They paid careful attention to detail, and they made sure everything was to our satisfaction. Would recommend!
Gino M.
Review from Google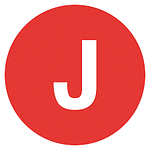 I found innovation from my block, where I saw his sign and decided to call them for my brick pointing work. My facade was leaking due to loose mortar . And rusty lintels. Ekram and his company installed scaffolding front of building, they make me assured, all the area is safe and precaution was taken . Then his team removed all brick mortar from the bricks , power washed , and replaced all lintels and repointing though out the facade. Now I don't have any more leak. Overall I was very happy with the final result.
Jordan Barnett
Review from Google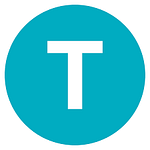 Innovation co is the only company I found to be true mason is restoring the brownstones, especially stoops. This is not my opinion actually it's a fact, they have completed hundreds of stoop in Brooklyn, and all around the city. During our consultation ekram gave a full list of references approximately over 100s of addresses. I was shocked at the beginning. But then after my own research I found them to be a true master mason for restoring these beautiful stoops in historic districts of our neighborhood. We love the way our stoop turned out to be and it looks amazing.
Timothy Elliott
Review from Google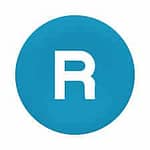 When it came time to give the exterior of our home a major face lift, I was not looking forward to the process of selecting the right contractor for the job. After our first meeting, I felt immediately at ease. Ekram, the owner, came out personally to evaluate our needs. He listened to what we had in mind and expanded our ideas to create a fantastic result! From suggesting the perfect color, to showing us how we could get a better effect with slight architectural changes. He was courteous and easy to work with. During the process of our stucco make over, I was equally impressed with the professionalism, politeness, attention to detail and cleanliness of his team. Our final result was better than we expected. Innovation did not leave a trace after they had gone. Our stucco just looked BEAUTIFUL! I highly recommend them!!
Rebeca Arnold
Review from Google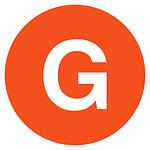 My 3 story brownstone facade building in Brooklyn had been resurfaced. Ekram the gentleman is very polite and punctual. Ekram provides great work and his team is very professional. We interviewed many facade contractor, but my husband had a feeling he would be best fit for our project, he provide us references , insurance, warranties prior to this work. His main job are brownstone and we needed someone who is experienced and knows it's work. The entire performance was great. Although this took extra month then anticipated, we are glad it's done. . We thank the whole team
Gregory Herrera
Review from Google
We had our landmark brownstone building completely resurfaced . They had chipped out the old layer of the brownstone facade and from its stoop . Lot of debris removal. And cement work started . There was some waiting periods after the scratch coat . I was given few samples of the brownstone . And then the work resumed . They restored and bring back all details throughout the completion. Building was washed down and all scaffolding equipment was removed . All looks great, fantastic job.!
Justin Rogers
Review from Google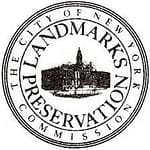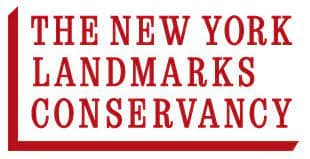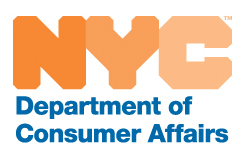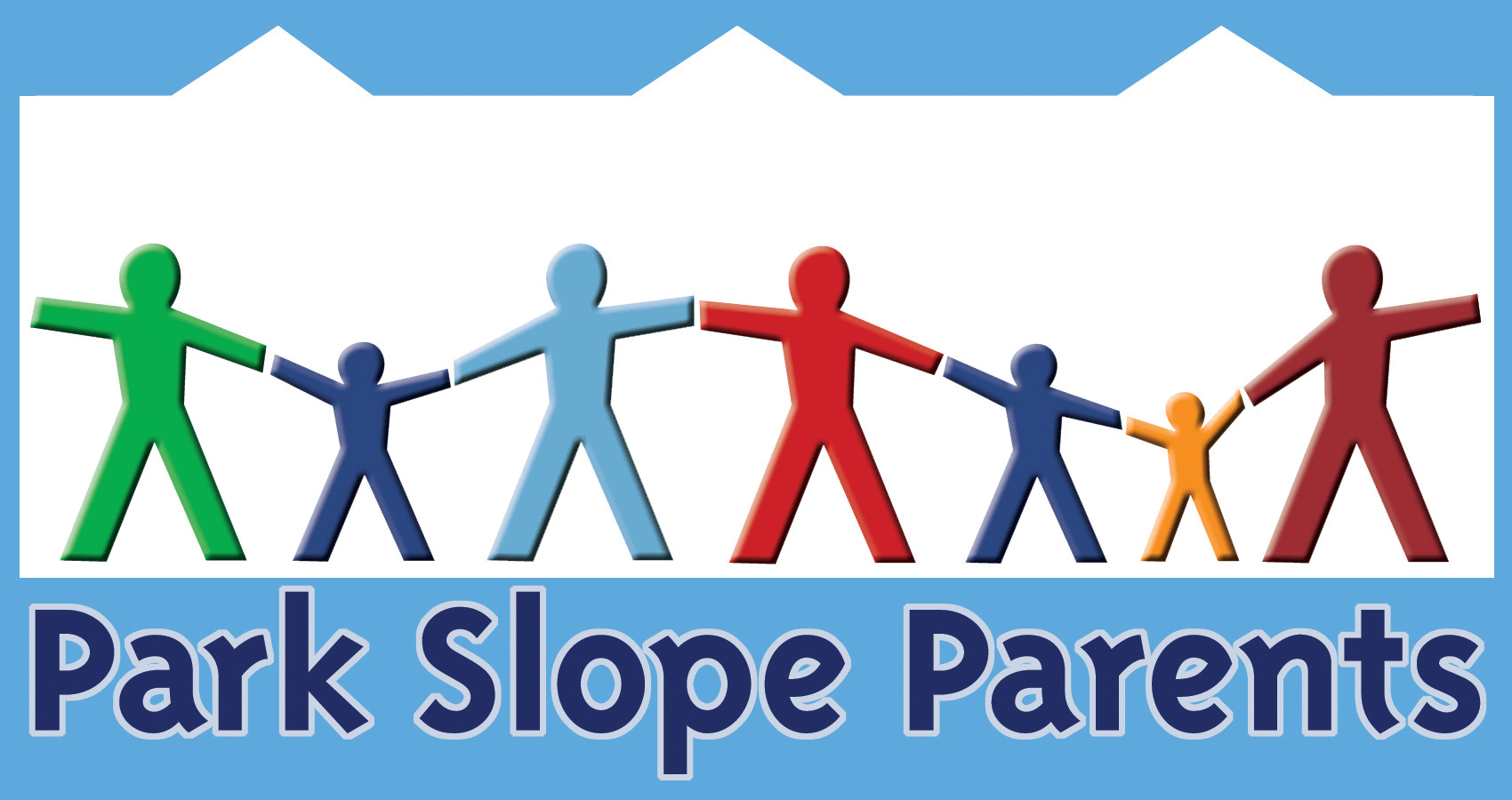 CONTACT US
INNOVATION CONSTRUCTION NY
Leading Brownstone Restoration Specialist